OUR COMMITMENT
We are committed to acting in good faith in all aspects of our work and avoiding conflicts of interest that could result in undue outside influence or a desire for personal gain.
YOUR RESPONSIBILITIES
To not offer, accept, or provide gifts or favors, such as meals, transportation or entertainment that might be viewed as a conflict of interest and that could violate Harris Health's Gifts policy.
To avoid situations resulting in improper personal gain or advantage such as hiring and supervising a family member or awarding a bid to a friend's business.
To keep relationships with actual and potential vendors and contractors professional.
To not allow outside employment to conflict with your position and employment with Harris Health.
To not use Harris Health-owned vehicles, equipment, materials or other property for personal gain, convenience or financial benefit.
To report any actual or perceived conflict of interest to the Office of Corporate Compliance.
INFORMATION TO KNOW
Harris Health defines a conflict of interest as any situation in which a workforce member has direct or indirect interests, including financial and personal interests or business transactions or professional activities, that may compromise or appear to compromise: (1) the workforce member's business judgment; (2) the delivery of patient care; or (3) the workforce member's ability to do his or her job. In sum, a conflict of interest occurs when your non-Harris Health duties and/or responsibilities compromise or even appear to compromise your duties and/or responsibilities to Harris Health.
A conflict of interest could result from the following: (1) outside employment; (2) personal relationships; or (3) business opportunities.
I would like to do some part time work on the weekends to supplement my paycheck at Harris Health. The job has nothing to do with healthcare and would never interfere with my work schedule at Harris Health. Would this be a conflict?
This would probably not create a conflict of interest because it does not involve healthcare and because it would not interfere with your work schedule at Harris Health. However, before you accept the job, you should discuss it with your supervisor, and you must disclose it to the Office of Corporate Compliance to make sure it does not create a conflict of interest.
I am a nurse and my best friend owns a company that provides home health services. Is it okay if I tell my Harris Health patients about his company and his services while I am treating my patients?
No, promoting your friend's company would create a conflict of interest. The promotion of your friend's company would compromise (or at least appear to compromise) your business judgment and the delivery of patient care to your patients because you could promote your friend's company over a better or more qualified company to the benefit of your friend and to the detriment of the patient.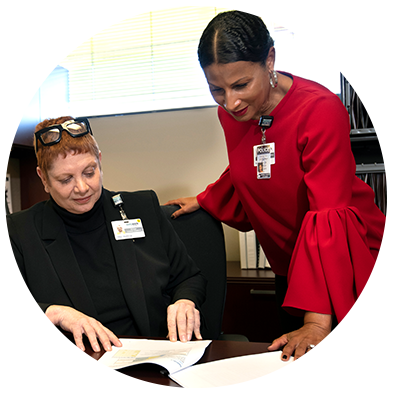 POLICIES TO KNOW
Harris Health Policy 3.42, Conflicts of Interest
Harris Health Conflict of Interest Disclosure Form